Your Local Pressure Washing Company in Pacolet, SC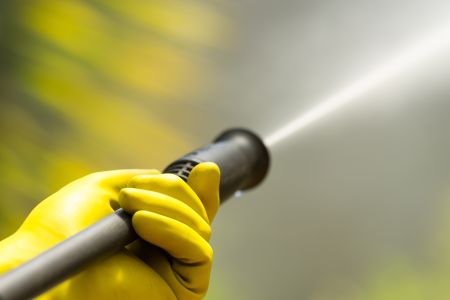 Do you need pressure washing in Pacolet you can rely on? Call Dillenger Pressure Washing today to give your home or business the type of cleaning it deserves. We put 100% into every project we do, whether it's restoring an old home's frontage or washing a storefront in time for the big opening.
Need a lighter touch? Our soft washing is just the thing for delicate surfaces like stucco siding and redwood decks. We're also experts at removing harmful organic growth such as moss and algae. If you're ready to boost your Pacolet curb appeal then call us now for pressure washing!
Our Pacolet Pressure Washing Cleans Your Property From Top To Bottom
There are lots of reasons why pressure washing is such a popular choice for cleaning exteriors. It's time-efficient, powerful, and can be used on a wide range of surfaces. However, it does require some skill and experience to use correctly. If you'd rather have pros clean your Pacolet home or business, give us a call. Some of what we offer includes:
Brick Cleaning: Your brick and mortar will look like new after we clean away the mildew and grime.
Mold/Algae Removal: You don't like the look of mildew on your siding and neither do we. Call us to fix it.
Concrete Cleaning: We clean plain concrete, exposed-aggregate concrete, and more.
Driveway Cleaning: Arrive in style on a freshly cleaned driveway. We get rid of scuff marks, tree sap, and more.
Nobody Does Pacolet Roof Cleaning Like We Do
If you have to pick just one Dillenger Pressure Washing service, choose roof cleaning. First of all, it's a hazardous job for the untrained due to the chance of falling. Secondly, you can easily damage some types of roofs (like clay tiles) by walking on them or cleaning them incorrectly.
A roof cleaning expert is the best choice for washing corners, flashings, and other hard-to-reach areas. Getting all the debris and organic growth is crucial to achieving the best clean possible. If you'd like a free estimate for cleaning your asphalt shingle, cedar shake, or other type of roof, call Dillenger Pressure Washing today!
House Washing In Pacolet Is One Of Our Specialties
Another popular use for our soft washing in Pacolet is house washing. It's the best way to remove mold, mildew, and dust from your home's siding. Experts recommend getting it done once a year, so call Dillenger Pressure Washing for help. Some of the types of siding we clean include:
Vinyl: This classic choice for home siding can get dirty quickly, so rely on us to keep it clean.
Stucco: Soft washing is how we clean mildew and grime off your stucco walls.
Fiber cement siding (Hardie boards): We'll carefully clean away dirt for a gleaming finish.
Customer Service Means Everything For Dillenger Pressure Washing
Keeping our customers happy is our top priority here at Dillenger Pressure Washing. That means we always go the extra mile to make sure you're 100% satisfied with your newly cleaned exteriors. If you have questions or concerns at any time, please don't hesitate to call so we can make things right.
Got a cleaning project in mind but you're not sure if pressure washing is right for it? Give us a call and we'll discuss your options. For the best pressure washing anywhere in Pacolet, call Dillenger Pressure Washing today!
Reviews & Testimonials on Dillenger Pressure Washing in Pacolet, SC
There are currently no reviews or testimonials, check back soon!