Concrete Cleaning Pros Can Clean And Extend The Lifespan Of Your Exterior Concrete Surfaces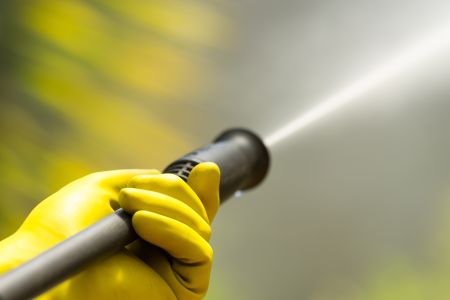 Concrete cleaning in Greenville is a job best left to the pros. Trust Dillenger Pressure Washing to get your concrete looking great. We're the area's #1 contractor for getting mold, grime, and other stains off concrete. Sidewalks, pool decks, and more look great when we're done.
Plus, clean concrete lasts longer! Service by Dillenger Pressure Washing helps prevent harmful organic growth from damaging your concrete surfaces. Call now for top-notch Greenville concrete cleaning!
We Offer Lots Of Ways To Keep Your Greenville Place Dazzling
We do more than just concrete cleaning! Some of our most popular services include:
Brick Cleaning: Got mineral deposits on your brick surfaces? Call us to remove them.
Mold/Algae Removal: We'll eliminate mold from vinyl siding, asphalt shingles, and more.
Driveway Cleaning: Our driveway cleaning works great on concrete, brick, and asphalt.
Roof Washing: Clean your roof once a year to prevent growth and debris from accumulating.
Nobody Does Soft Washing Like Dillenger Pressure Washing
For tough jobs like concrete cleaning, pressure washing works just fine. But sometimes you need a gentler approach, which is why Dillenger Pressure Washing offers the best soft washing in Greenville. House washing is one of our favorite soft washing applications. It's the ideal way to clean many types of home siding, including:
Stucco: Restore the look of your stucco with our expert service.
Fiber-cement siding (Hardie boards): This versatile material lasts years with proper care.
Wood panels: Cedar, redwood, and composite siding look great after soft washing.
Regular Pressure Washing Keeps Your Greenville Place Clean
There's nothing like first-rate pressure washing for bringing a dingy old surface back to life. But did you know it's a great form of preventive maintenance? Experts say regular cleanings are essential for your exteriors. They keep them looking great and hold mildew and other growth at bay.
The timeline for service depends on the surface and its use. Fences should be cleaned every six months, roofs need yearly cleaning and storefronts benefit from biweekly touch-ups. To discuss your home or business's cleaning needs, call Dillenger Pressure Washing today!
Get Clean Gutters Inside And Out
Ready for the rainy season? If you need your gutters cleaned out, call Dillenger Pressure Washing. We'll dislodge the leaves and other debris clogging up your gutters. We'll also brighten the outside of the gutters by getting rid of stripes, algae, and rust stains.
For a really great clean, combine our gutter cleaning with some of our other services. Boost your home or business's curb appeal with gleaming sidewalks and siding. There's no job too big or small for our cleaning experts, so call us today!
We've Got The Best Customer Service In Greenville
At Dillenger Pressure Washing, nothing means more to us than customer service. If you've got questions or concerns at any time, let us know right away. We take pride in going above and beyond to fix any problems and provide 100% total customer satisfaction.
Got an idea for a cleaning project but you're not sure if pressure washing is right for it? Give us a call. You'd be surprised at the different ways we can help your property look its best. From cleaning custom stonework to detailing hard-to-reach roofing, Dillenger Pressure Washing can do it all. Call us now for a free estimate!