Driveway Cleaning Can Wash Years Of Staining And Wear Off Your Concrete Surfaces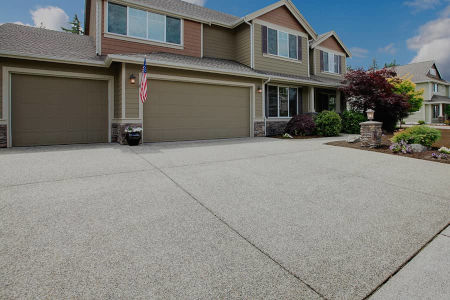 Want your own personal VIP parking? Call Dillenger Pressure Washing for driveway cleaning in Gaffney! You'll love the way we make your driveway gleam. From scuff marks to mineral deposits, there's nothing our pros can't handle. Whether it's concrete, brick, or asphalt, our experts can give your driveway a top-notch clean.
There's more to driveway cleaning than just looks. Regular cleaning helps keep mold, algae, and other harmful growth at bay. This helps prevent the slippery surfaces they can cause. To get a free estimate for your Gaffney driveway cleaning, call Dillenger Pressure Washing today!
We Do More Than Just Driveway Cleaning For Your Gaffney Property
Driveway cleaning is just one of our specialties. We offer lots of ways to keep your local home or business in spectacular shape. No matter how big or dirty your cleaning project is, we can help. Some of our most popular services include:
Brick Cleaning: Restore the luster to your brick surfaces with our professional cleaning.
Mold/Algae Removal: Don't let mold take over your exteriors. Call us for help.
Gutter Cleaning: We clean the inside and outside of your gutters and downspouts.
House Washing: Trust our soft wash house washing for stucco, wood, and more.
Roof Cleaning: Asphalt shingles, cedar shake roofs, and more look great when we're finished.
Our Gaffney Concrete Cleaning Is One Of A Kind
Want your concrete surfaces to sparkle? Ask about our concrete cleaning. It's the #1 way to get grime, mold, and other stains off your concrete. Give your sidewalk a makeover or get your deck ready for parties. Whatever kind of concrete surface you have, count on Dillenger Pressure Washing to get it clean.
Do you have an exposed-aggregate driveway? We can clean those, too. In fact, experts recommend that you clean this type of concrete more frequently since its uneven surface collects more debris. Call us today for an estimate!
Call Dillenger Pressure Washing For Peace Of Mind And More
Pressure washing is a powerful way to clean lots of surfaces, but it does require some skill and expertise to use correctly. Stucco, vinyl, and wood are some examples of materials that need to be cleaned carefully. If you'd rather leave your exterior cleaning to the pros, call us for a superb pressure washing. Some of the benefits of hiring the experts include:
Convenience: You won't have to buy any equipment or return any rentals.
Quality: We know how to get the toughest stains out of a wide range of surfaces.
Safety: Leave the roof work and hard-to-reach areas to the experts.
Time Savings: Cleaning fences and other large jobs are time-consuming, so call us instead.
People All Over Gaffney Love Our Customer Service
When you choose Dillenger Pressure Washing, you're getting the best customer service in Gaffney. We take pride in going above and beyond to deliver 100% satisfaction on every job we do. From big-time total cleanings to seasonal touch-ups, we can do it all.
Got a cleaning project in mind but you're not sure if pressure washing is right for it? Give us a call and we'll discuss your options. Soft washing and stain removal are just some of the ways we can revitalize your home or business exteriors. Call Dillenger Pressure Washing now to get started!