About Dillenger Pressure Washing - A Local Pressure Washer That Delivers A Supreme Clean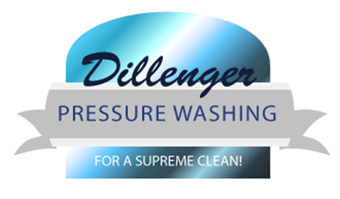 Dillenger Pressure Washing's mission is to be Gaffney's best pressure washer. We're the top choice for cleaning your home or business's concrete, vinyl, and more. Got asphalt shingles or a vinyl fence? Count on us for yearly cleaning. No matter how big or small your pressure washer needs, Dillenger Pressure Washing can get it done.
Own a business in the Gaffney area? Call our pressure washing pros to keep it clean. We're #1 for decks, storefronts, and other commercial surfaces. For the best pressure washer in Gaffney, call Dillenger Pressure Washing today!
Our Algae And Mold Removal Is Out Of This World
Tired of seeing mold on your home siding? You'll love Dillenger Pressure Washing's algae and mold removal. We use environmentally friendly cleaners to carefully remove harmful growth from surfaces like stucco, fiber-cement siding (Hardie board), and more. It also works great for mildew and moss. To see how our pressure washer can remove harmful growth from your Gaffney home or business, call Dillenger Pressure Washing today!
See What A Difference Our Pressure Washing Can Make
Our pressure washer works great for nearly every part of your home or commercial property. Some of our most popular services include:
Concrete Cleaning: We clean any concrete surface, including exposed-aggregate.
Gutter Cleaning: Get the inside and outside of your gutters clean and ready to go.
Driveway Cleaning: Arrive in style on a driveway free of scuff marks and other stains.
Our Soft Washing Is Just What Your Gaffney Home Or Business Needs
Want to get the most gentle clean available from a pressure washer? Ask about Dillenger Pressure Washing's soft washing, which gently soaks away stains instead of using high pressure. It's the recommended way to clean lots of exteriors, including:
Stucco siding: Our house washing will make your stucco look like new.
Asphalt shingles: Don't let mold or tree sap stain your shingles. Call us for roof cleaning.
Cedar: Restore color to dull cedar decks with our expert soft washing.
Leave The Tough Job To The Pros At Dillenger Pressure Washing
Pressure washing is a thorough and efficient way to clean many property exteriors. However, it does require some skill and know-how to use correctly. For example, you can chip concrete if you use the wrong angle. That's why people in Gaffney and beyond call the pros at Dillenger Pressure Washing for the best clean possible.
Safety can also be a big concern when cleaning home exteriors, especially on roofs. Not only is there a fall hazard, but you also have to watch out for overhead power and phone lines. If you'd rather have experts handle your home or business exterior cleaning needs, give us a call today!
We Do Customer Service Better Than Anyone Else
At Dillenger Pressure Washing, we take pride in going above and beyond to bring you the best. That means putting awesome customer service at the forefront of everything we do. If you have questions or concerns at any point, let us know and we'll address them right away. We're here to make sure you're completely satisfied.
Got a cleaning project in mind but you're not sure if pressure washing is right for it? Give us a call and we'll discuss your options. We're also your go-to contractor for the regular cleaning that experts recommend for a long-lasting home. Contact us today for a free estimate! You'll be glad you did.