Algae And Mold Removal Completed By Our Exterior Cleaning Specialists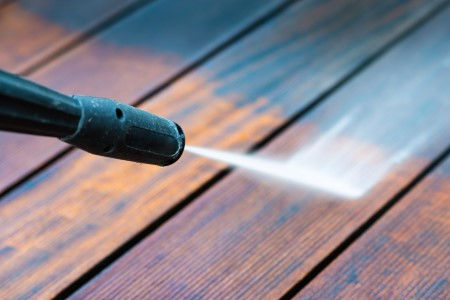 Do you need mold removal in Greenville? Dillenger Pressure Washing is at your service. We've got the best algae, mold, and mildew removal anywhere. Whether it's a slippery pool deck or a mildew-covered wall, you can count on us to get things sharp.
Mold removal not only makes your home or business exteriors look better, but they can help it last longer, too. Organic growth can eat away at certain materials and weaken them, so rely on us to protect your investment and boost your curb appeal. For Greenville mold removal that's out of this world, call Dillenger Pressure Washing!
Mold Removal Works Great On Lots Of Surfaces
Greenville is a great place to live, but keeping a home or business clean here does have its challenges. The heat and humidity provide ample opportunities for harmful growth to bloom. To fight back, call Dillenger Pressure Washing. Our mold removal is well-suited for many kinds of property exteriors, including:
Stucco siding: We'll help reclaim your stucco walls from mildew and other grime.
Wooden decks: Seasonal cleaning keeps your outdoor deck spotless all year long.
Concrete surfaces: Don't let mold damage your concrete! Call us instead.
Vinyl: Mold can't eat vinyl but it can still be unsightly. Our mold removal works perfectly for it.
We Safely Complete Mold And Algae Removal With The Appropriate Chemicals And Tactics
At Dillenger Pressure Washing, we use environmentally friendly cleaners for all our projects. We also take care to use the appropriate cleaning method for the surface involved. For example, we soft wash wood and stucco to eliminate harmful growth without damaging the material. We use a similar technique for asphalt shingles.
Speaking of shingles, we also offer roof cleaning throughout the Greenville area. It's the #1 way to get your rooftop gleaming. Clay tiles, cedar-shake roofs, and more all look amazing when we're finished. We also clean some types of commercial roofs, so call Dillenger Pressure Washing today to learn more!
Dillenger Pressure Washing Offers A Full Range Of Exterior Cleaning Services
Want to give your home a touch-up? Dillenger Pressure Washing is your go-to choice for seasonal cleanings. If you need something more heavy-duty (a long-neglected fence, perhaps), we can do that, too. Some of our most popular services include:
Brick Cleaning: If you've got efflorescence or other mineral deposits, we'll get rid of it in no time.
House Washing: Get your home's siding clean from top to bottom for a beautiful finish.
Driveway Cleaning: Arrive in style on a freshly cleaned driveway free of stains and scuff marks.
Concrete Cleaning: We clean plain concrete, exposed-aggregate concrete, and more.
Call On Us To Clean Your Greenville Gutters
Prepare your home or business for the rainy season by calling Dillenger Pressure Washing for gutter cleaning. Our top-notch pressure washing dislodges leaves and other debris from your gutters and downspouts to keep the rain flowing. It protects your investment by keeping water away from sensitive areas of your roof and foundation.
We also brighten the outside of your gutters. Stripes, rust, and algae are no match for our expert cleaning. No matter what your exterior cleaning needs, Dillenger Pressure Washing is the team to call. For more information or to get a free estimate for your Greenville home or business, call us today! You'll be glad you did.