How To Clean Fiber-Cement Siding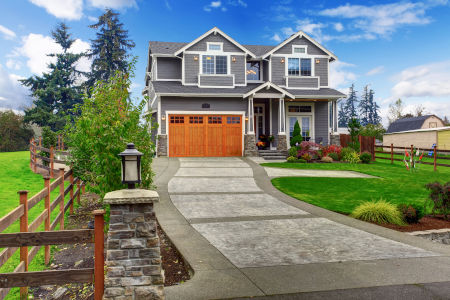 For Gaffney homes, a popular choice is fiber-cement siding. Fiber cement is versatile, attractive, and comes in a wide range of styles. It's also very durable and resistant to bugs and mold. Twice-a-year cleaning ensures that your fiber-cement siding looks great. Keep reading to learn how to clean fiber-cement siding.
Dust, grass stains, and dirt: Take a soft cloth or soft brush. A scrub brush or other stiff-bristled brush can scratch the surface, so don't use them. Wipe the dirt away and then rinse the area with a garden hose. Repeat as necessary. If you're using a cloth, wet it with plain water and wipe away accumulated debris.
Mold and mildew: Mildew Check is a popular brand you can buy in a hardware store. Follow the instructions for use and be sure to wear protective gear. As you clean, use a sponge to agitate the dirty area then a soft, wet cloth to wipe it. Afterward, use your garden hose to rinse everything off.
Oil or grease: Take a soft cloth and dip it into a mix of mild liquid dishwashing soap and water. Do not use harsh cleaners on fiber cement siding! You can mar the surface or harm the paint.
We've Got What It Takes To Clean Your Fiber Cement Siding
Cleaning your home's siding requires a lot of time and labor. Another option is pressure washing, but you have to be careful not to damage the surface. If you'd rather have experts clean your fiber-cement siding, call Dillenger Pressure Washing today. We use soft washing to get rid of stains on delicate surfaces like fiber-cement. While we're there, ask us about other services, including:
Driveway Cleaning: Arrive in style on a clean concrete, brick, or exposed-aggregate driveway.
Gutter Cleaning: We'll clean the inside and outside of your gutters to get them storm-ready fast.
Roof cleaning: Got mold on your asphalt shingles? We'll carefully remove it without causing damage.
Call Us For The Best In Gaffney Mold And Algae Removal
Want to make your Gaffney place look its best? Call us and ask about our mold and algae removal. It's the best way for getting mildew and other harmful organic growth off your property exteriors. This is important, and not just because it looks good.
For one thing, algae can make deck boards slippery. Mold can eat away at asphalt shingles, and it can also seep into concrete and damage it. To keep this from happening, you need pros with experience stamping out concrete wherever it crops up. For a free estimate, call Dillenger Pressure Washing today!
Customer Satisfaction Is Always Our #1 Goal
At Dillenger Pressure Washing, we always go above and beyond to make sure you're completely satisfied. If you've got questions or comments at any time, please let us know. We'll make things right as quickly as possible.
Got a cleaning project in mind but you're not sure if pressure washing is right for it? Give us a call to talk about it. Home and business owners in Gaffney and beyond, we are at your service! Make an appointment today.