How To Clean An Exposed Aggregate Driveway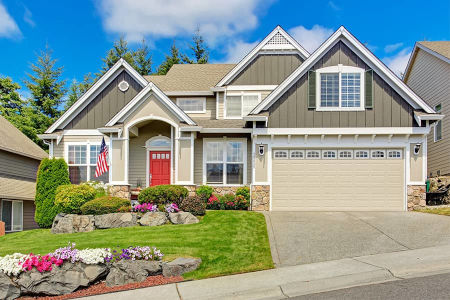 Exposed aggregate concrete is a versatile, attractive choice for driveway material. Compared to regular concrete, it requires slightly more maintenance because dirt easily gets into the top layer. Keep reading to find out how to clean an exposed aggregate driveway.
Sweep the area with a broom. That way, there won't be any loose rocks or dirt to fly around.
Buy or rent a pressure washer. Choose the white nozzle. This is the 40-degree spray fan nozzle. It produces the lowest stream and is the right choice for exposed aggregate because there's less risk of chipping.
Now it's time to set the pressure. Read the concrete manufacturer's instructions to make sure, but typically you'll use between 2,100 to 3,800 pounds per square inch (PSI).
Put the cleaner on the surface. Follow the instructions and don't use more cleaner on stains, even though you may want to. One layer of cleaner should be enough for the whole driveway. Then let things sit for the required amount of time.
Start pressure washing. Point the spray nozzle away from any edges. That way you'll lessen the chance of damaging the surface. Hold the nozzle about a foot away from the surface and make sweeping motions left to right. Then go up and down over the same area. This helps reduce the chance for streaks.
When it's done, you'll have a gleaming driveway. If cleaning your exposed aggregate driveway sounds like a job you'd rather leave to the pros, call Dillenger Pressure Washing.
Get The Best Greenville Pressure Washing For Your Exposed Aggregate
At Dillenger Pressure Washing, we'll keep your exposed aggregate driveway free of grime, mildew, and dirt. You'll love being able to park on a freshly cleaned surface, and it boosts your home's curb appeal, too. We also clean other types of concrete, including plain concrete and concrete decks.
Want to keep your driveway looking good all year round? Have Dillenger Pressure Washing clean it once a year. That prevents organic growth from taking hold and ensures your driveway matches the rest of your home. For a free estimate, call us today!
We've Got All Sorts Of Ways To Keep Your Greenville Home Beautiful
We do a lot more than driveway cleaning. We're proud to offer lots of ways to keep your Greenville home in great shape, including:
Brick Cleaning: We'll wash away efflorescence and other mineral deposits to restore your brick surfaces.
Mold/Algae Removal: Mold and algae can be hard to clean away, so trust our experts for mold and algae removal.
Gutter Cleaning: Get clean gutters on the inside and out thanks to our expert cleaners.
Customer Service For Greenville Is Our Top Priority
In addition to quality results done on time, Dillenger Pressure Washing values customer service. We take pride in doing whatever it takes to make sure you're happy. If you've got an old surface that hasn't been cleaned in years, give us a call. We'll be glad to help.
Do you need just a quick seasonal touch-up instead? We're experts at that, too. No matter how big or small your exterior cleaning needs are, we're the team to call. Make an appointment today with Dillenger Pressure Washing!